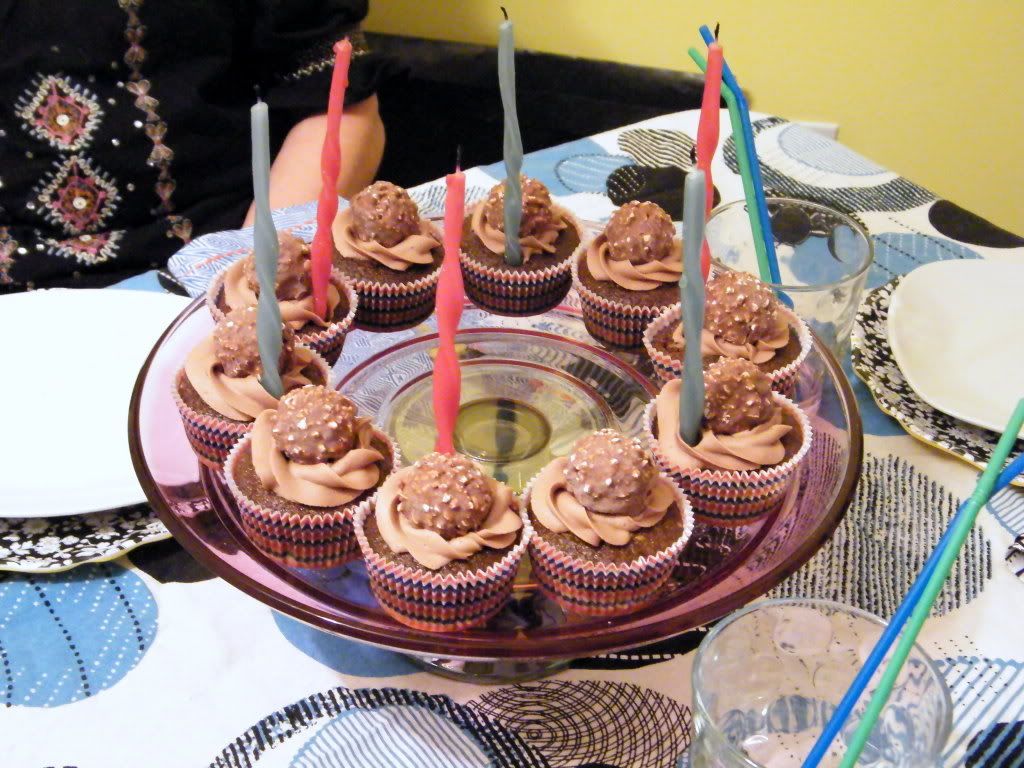 Happy Birthday! Wait, it's not your birthday? Are you sure? Don't you want an excuse to make these cupcakes? I needed one once I saw a version of them on
Pinterest
and my boyfriend's 21st birthday was the perfect occasion. He loves anything and everything chocolate, so I got busy baking these the weekend before he went back to Atlanta for the start of the semester.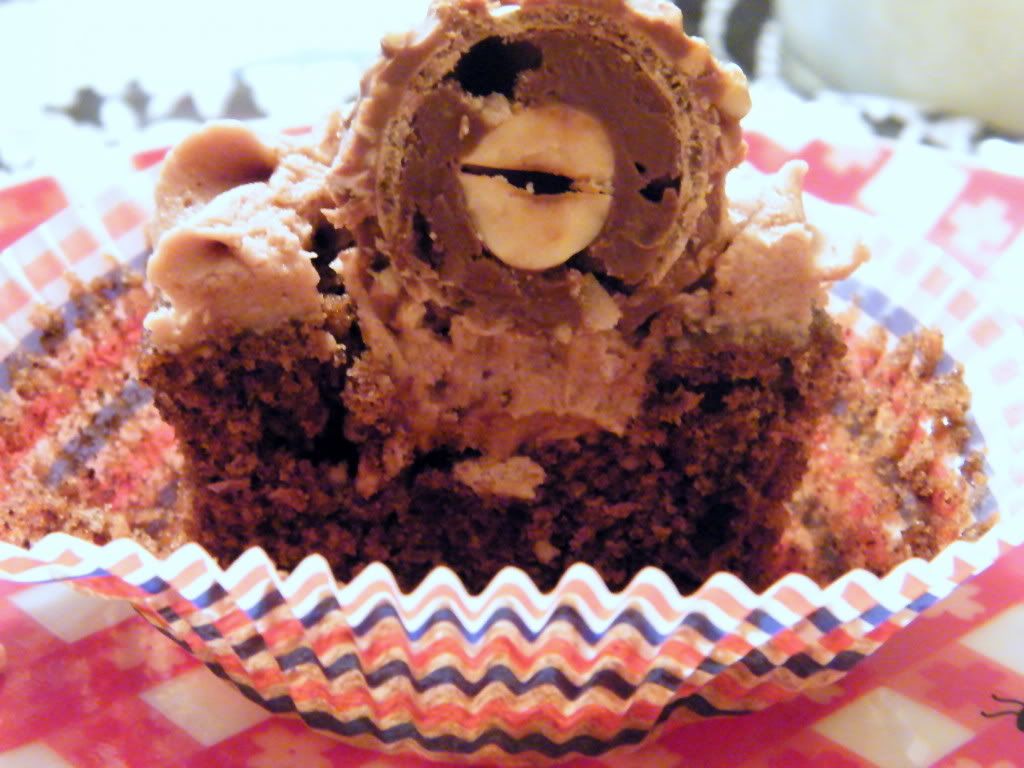 These cupcakes are deliciously sinful (thankfully I have managed to eat just one!). I started with a chocolate fudge cupcake from my great grandmother's cookbook, scooped out a little of the top, filled that with Nutella buttercream, and unwrapped two dozen Ferrero Rocher candies for the best cupcake topper I can imagine.
Fudge Cupcakes
From my great grandmother's Better Homes and Gardens New Cookbook
2/3 cup brown sugar
1/3 cup milk
2 1-ounce squares unsweetened chocolate
1/3 cup shortening [I used unsalted butter]
2/3 cup brown sugar
1 teaspoon vanilla
2 eggs
1 1/3 cups sifted all-purpose flour
1 teaspoon baking soda [Fun fact, the cookbook just says soda. I didn't think it meant Sprite.]
1/2 teaspoon salt
1/2 cup milk
Preheat oven to 375 degrees Farenheit. Combine 2/3 cup brown sugar, 1/3 cup milk, and chocolate in saucepan; heat and stir over very low heat until chocolate melts; cool. Stir shortening/butter to soften. Gradually add 2/3 cup brown sugar; cream together until light and fluffy. Add vanilla. Add eggs, one at a time, beating well after each.
Sift flour with soda and salt; add to creamed mixture alternately with 1/2 cup milk, a little at a time; beat after each addition. Add chocolate mixture.Place paper bake cups in muffin pans; fill 1/2 full. Bake in moderate oven
[This phrase cracked me up]
about 20 minutes. Makes about 2 dozen. I indeed ended up with only 23. I think I just fill my liners too full no matter what recipe I am making. Oh well.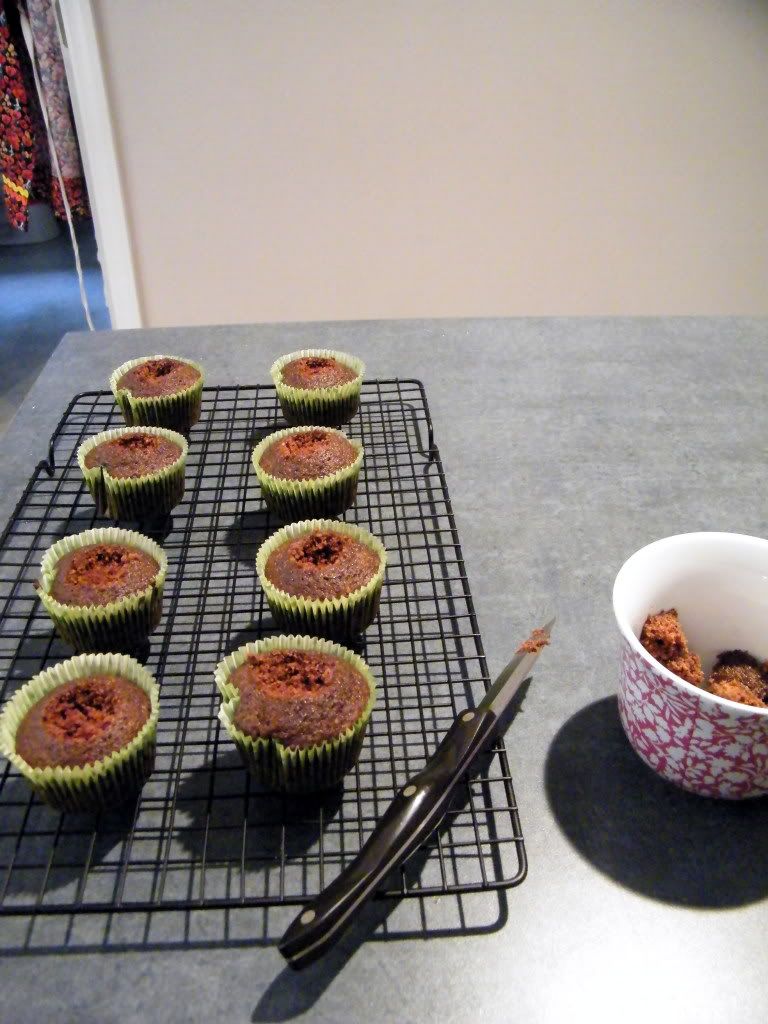 After they cooled I cut a little recess at the top of them, to hold more frosting and so the Ferrero Rocher candy could have more of a little hole to stay in. Then I frosted them with a divine Nutella buttercream.
Nutella Buttercream
1/2 cup unsalted butter, softened
4 cups confectioners sugar
1/4 cup half and half
1/2 teaspoon vanilla extract
1/4 cup of Nutella (or more to taste)
In your stand mixer with flat beater, cream butter. Add 3 cups of the confectioners sugar, then milk and vanilla and beat until the mixture is smooth, about 3-4 minutes. Add the remaining confectioners sugar, beating about 1-2 minutes. In a microwave safe bowl, soften the Nutella until it has a spreadable consistency, about 15-20 seconds. Add the softened Nutella to your buttercream and fold into the frosting until well blended. I followed the recipe exactly and ended up with two very full decorating bags. Excellent.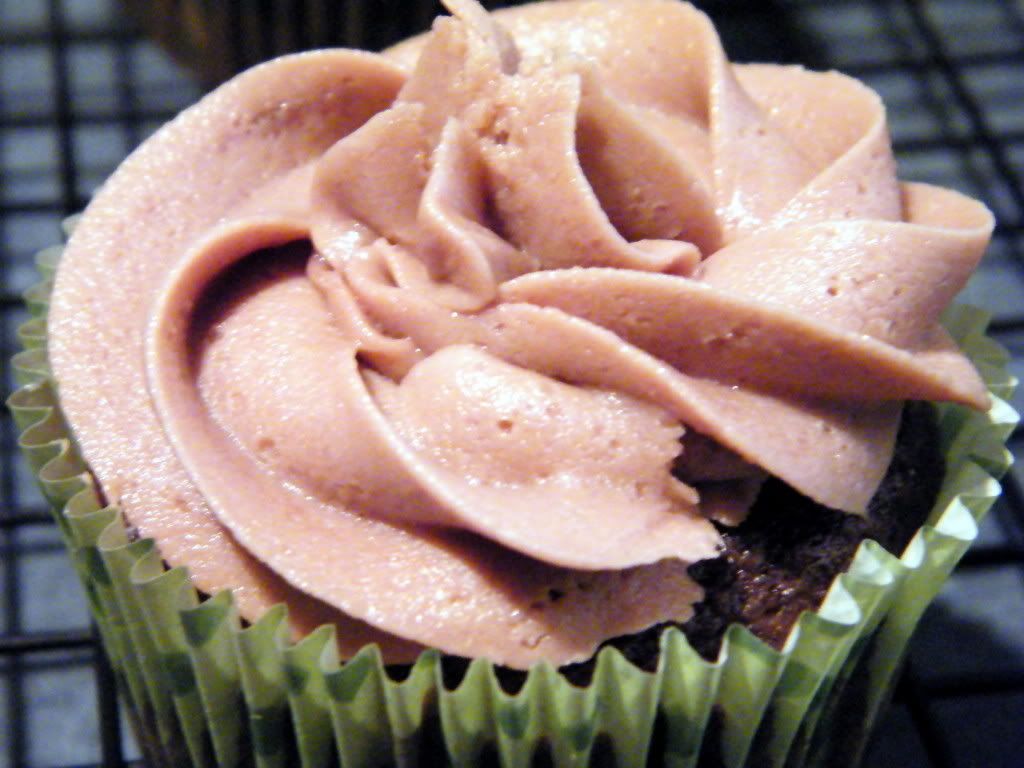 I used a Wilton 1M tip (it changed my life. How did I decorate anything before I had real tips??) and squeeze out a big swirl on each cupcake. This was the first real buttercream I've ever made that was thick and actually crusted. Hallelujah I quickly added the Ferrero Rocher so it would be nice and stuck in the frosting before it completely hardened.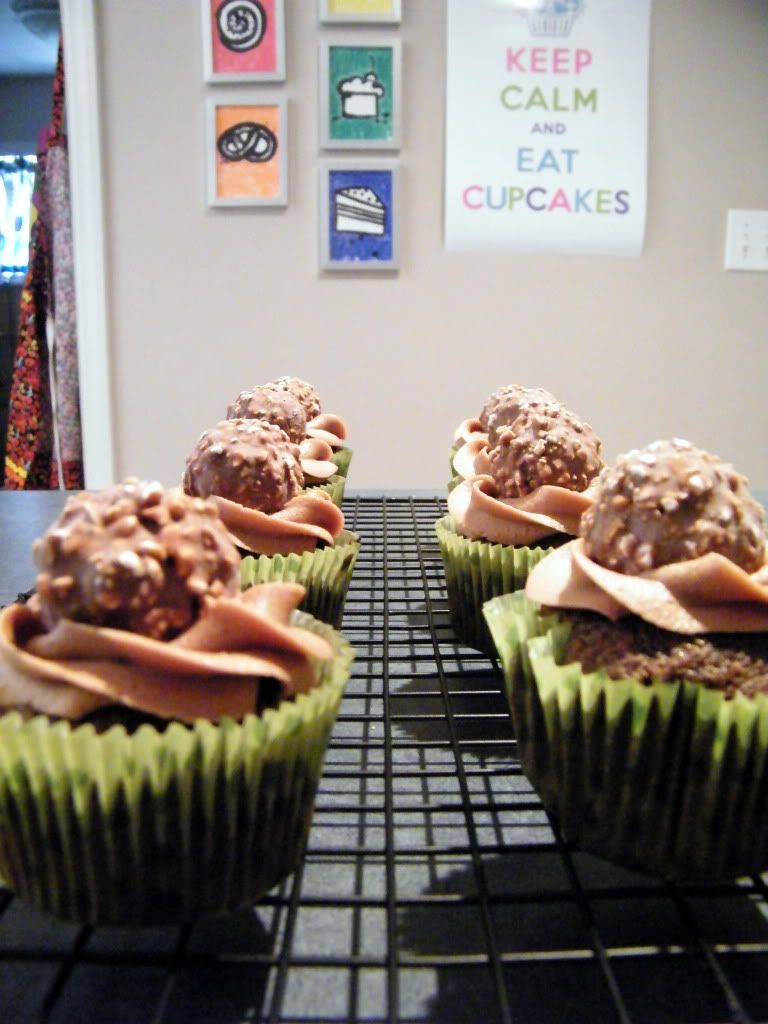 I served a dozen to my boyfriend and his family the night we celebrated his birthday. They were well received I think and quite delicious. I sent the other dozen back with him so he could share them with his roommates on his actual birthday but somehow they got left in a car. Sad. At least there are happy memories from the first dozen!